---
FILL YOUR EYES WITH GLAMOUR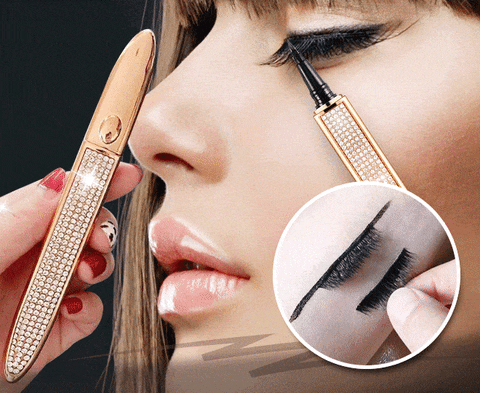 Tired of the heavy magnets and uncomfortable glue, now you can put on eyelashes without hindering your comfort. Our magic Self-adhesive liquid eyeliner creates the perfect support for your lashy looks!
You can easily create seamless lines with the thin nib. The strong mixture holds under water and tension to keep your lashes put throughout your daily activities.
If time is not on your side you don't have to compromise, LiquidX dries in mere moments to give a quick way of styling your eyes without taking too much of your time!
Highlights 

✔️  A natural feel - Start wearing lashes without weighing yourself down, replace the magnets and glue with a light natural hold!
✔️  Invisible support - Enjoy the seamless support for your makeup, easily add as much depth to your eyes using the thin nib!
✔️  Instant activation - In a hurry? The magic liquid dries in mere moments so you can work your magic without having to wait or be late!
✔️  It's the ultimate choice -  Make your eyes bling with glamour, create a more natural and light eye look for yourself !
Features 
Durable, waterproof and sweatproof.
✔️  Natural appearance, easy to apply and remove.
✔️  A multi-purpose, self-adhesive glue-free magic eyeliner for eyelashes.

How to use ?
Starting as close to the eyelashes as possible, draw a line starting from the inner corner of the eyelid and extending towards the outer corner.
Please fix the eyeliner cap after each use.